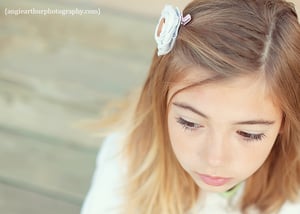 $

10.00 - On Sale
This 3 piece set is the debut piece for my waste not want line. I got fed up with throwing out jeans or adorable baby things thanks to a rip that was unrepairable. So i got out the stockpile and finally got creative. Fabric flowers like these solved the problem.
This set include one denim clip, one khaki piece in tan color with a large metallic brad and one soft blue cotton piece with one medium sized blue colored pearl type of brad. The finishing touches can be change as requested.
The second photo shows all three pieces.
Thank you to Angie Arthur Photography for the great model shots. Check out her blog at http://www.thearthurclan.com/.
For more offerings in the Wast Not Want Not line please visit http://www.facebook.com/album.php?aid=36030&id=111713738855770
Add me on facebook for special offers http://www.facebook.com/pages/Coras-Corner/111713738855770